Miami Vice goes season 2 this Christmas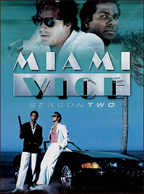 Universal Home Video has just unveiled some details about the season 2 DVD set of Miami Vice, which is evidently slated for release in December.
Following Vice-agents Sunny Crocket and Ricardo Tubbs into the cest pool that is Miami, once again, this season features guest stars, such as Pam Grier, Gene Simmons, Earth Kitt, David Strathairn, James Remar, Miles Davis, Lynn Whitfield, Iman, Phil Collins, Ted Nugent, Frank Zappa and countless others. But also some of the supporting cast characters are finding better exposure and episodes in this second season that originally aired in 1985/86.
The release will feature the original full frame transfer of the hit TV series – hopefully this time in a better quality than in the previous season set – and will once again come with a 5.1 channel Dolby Digital remix of the audio, featuring all of the original music, including Phil Collins, Fleetwood Mac, Eric Clapton, U2, The Who, Tom Petty, Jimi Hendrix and many more.
Apart from all 22 episodes of the show's second season, the DVD set will also contain some exciting extras, such as an exclusive Behind-The-Scenes Journey that takes you into the world of the real life Miami Vice Squad Other extras have not yet been announced.
"Miami Vice: Season Two" is scheduled for release on December 13 with a $59.95 price tag attached to it.