Celebrate 50 years of destruction with Godzilla: Final Wars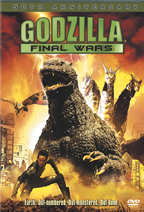 The 50-year history comes to an end this December when Sony Pictures Home Entertainment will release the last Godzilla film ever to be produced, bringing to a close a glorious era of monster filmmaking, when they unleash Godzilla: Final Wars on DVD for everyone to behold.
Godzilla's 50th Anniversary project and costliest adventure to date out of 28 films. Earth has been relatively peaceful since Godzilla was successfully buried deep in ice beneath the South Pole. Then – sometime a few years hence-several of his old nemeses return to wreak havoc on cities worldwide. A huge spaceship suddenly appears and neutralizes all the monsters in a blink. The visitors are "Xiliens," who take human form and announce they would like to negotiate a peace treaty that would replace the United Nations with a "United Universe". They are indeed too good to be true, however. It doesn't take long before their nefarious real purpose is exposed – conquering Earth. Greatly outmatched, Earth officials decide to de-freeze Godzilla as man's only hope to vanish the invaders, as well as the monsters they control. Only trouble is Godzilla is still mad at man for freezing him in the first place.
The release will feature an Anamorphic Widescreen transfer of the movie complete with 5.1 channel Dolby Digital audio tracks in Japanese and English. The release will also include bonus materials, such as a B-Roll of Special Effects Sequences and a selection of Trailers and TV Spots.
"Godzilla: Final Wars" will stomp onto DVD on December 13 for $24.96. A UMD version for your Sony PSP will also be released on the same day.