Anchor Bay launches 3rd Rock From The Sun: Season 2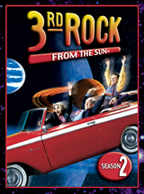 Television's funniest alien family is back for another season of studying a confusing planet and its confounding inhabitants. On October 25th, Anchor Bay Entertainment and Carsey-Werner will release season two of the award-winning comedy 3rd Rock From The Sun.
Dick, Sally, Harry and Tommy are back again. And with them are Jane Curtin, Wayne Knight, Simbi Khali and Elmarie Wendel as the humans increasingly influenced by these spacey out-of-towners.
In reality, the Solomons are a team of highly intelligent aliens sent to Earth – fictional Rutherford, Ohio, to be exact – to study the ways of humankind. Although they assume human form to blend in, fitting in is quite another matter! Dick Solomon is the High Commander, who finds a job at the University of Ohio as Professor of Physics. Dick's military officer, Sally, has been given a sexy female shape and his intelligence specialist is disguised as an average adolescent named Tommy. And only because there was extra room on the voyage, Harry Solomon was invited to go along. Ironically, it is only Harry – a stand out in an already eccentric family – who can communicate with The Big Giant Head, their fearless leader back home. Dr. Mary Albright is the Dean of the University, to whom Dick is becoming increasingly attracted, and Wayne Knight is Officer Don, the object of Sally's desire – but only when he's in uniform!
Season Two of this cosmic comedy includes special guests such as George Takei, Harry Morgan, Mark Hamill, Al Franken, Christine Baranski, Oscar-winning composer Randy Newman, football coach Mike Ditka, basketball superstar Dennis Rodman and many others.
The four-disc DVD set will contain all 26 episodes from the show's second season, and will also contain a pair of 3D glasses for the very special 3D season finale. A wealth of extras complement the release, including a Bloopers Reel, Season 2 Highlights, TV Spots and a new candid interview with John Lithgow. Also included are two special 3D Episodes and a Never-Before-Seen 3D Episode Alternate Ending as well as Behind-The-Scenes of the 3D episode and very special3D Episode Bloopers.
Prepare yourself for the Solomon's when they will try to mingle with humans on Ocotber 25 for only $39.98.