20th Century Fox Home Entertainment releases Transporter 2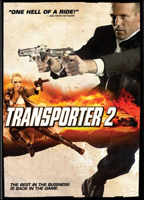 To aggressively ring in the new year, 20th Century Fox Home Entertainment has scheduled the DVD release of Transporter 2 for January 10.
Professional driver Frank Martin (Jason Statham) is living in Miami, where he is temporarily filling in for a friend as the chauffeur for a government narcotics control policymaker and his family. The young boy in the family is targeted for kidnapping, and Frank immediately becomes involved in protecting the child and exposing the kidnappers. The best in the business is back in the game again….
20th Century Fox Home Entertainment will serve up a widescreen version of the film, as well as a separately sold cropped pan & scan version, on DVD. The release will contain 5.1 channel Dolby Digital and DTS audio tracks as well as French and Spanish Dolby Surround tracks.
As extras the DVD will be loaded with a selection of Deleted Scenes as well as Extended Fight Scenes. Naturally, a Making Of Featurette will also be included on the releases, as well as an Off The Record Featurette giving you a candid look behind the scenes. As a special treat, Fox is also including a First Look Trailer for X-Man 3 on the release.
"Transporter 2" will be in stores on January 10 with a suggested retail price of $29.98. a UMD version will also be released on the same day, though much slimmer, featuring only the extended fight scenes as extras.