Titanic is finally making it to DVD as a Special Edition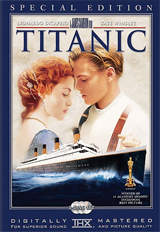 It's been a long time but finally Paramount Home Entertainment has unveiled details about a Special Edition of James Cameron's Titanic coming to DVD this October as a 3-disc DVD set.
Leonardo DiCaprio and Oscar -nominee Kate Winslet light up the screen as Jack and Rose, the young lovers who find one another on the maiden voyage of the "unsinkable" R.M.S. Titanic. But when the doomed luxury liner collides with an iceberg in the frigid North Atlantic, their passionate love affair becomes a thrilling race for survival.
The DVD will contain three Commentary Tracks. One of them fill feature director James Cameron, the second one features the film's stars Kate Winslet and Gloria Stuart as well as Oscar-Winning Producer Jon Landau and Executive Producer Rae Sanchini. A third commentary track will cover the historical aspects of the events.
Also included will be an Alternate Ending called "Brock's Epiphany" as well as some 29 never-before-seen Deleted Scenes with optional commentary by director James Cameron.
A Featurette on the visual effects of the movie will also be included as well as Celine Dion's Music Video "My Heart Will Go On," of course.
While this is great news, there is a sour note to this again. Australia and some other countries will actually get a 4-disc Special Edition that will include the HBO First Look documentary "Titanic: The Heart Of The Ocean" on the additional disc, as well as a some short parodies. This version will be unavailable to US customers.
Still, this will be a great release, scheduled for October 25 with a suggested retail price of $29.99.