Scrubs is going for seconds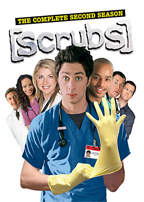 The TV comedy series Scrubs is returning to DVD this fall. Buena Vista Home Entertainment has slated The Complete Second Season for release on November 15.
Featuring all episodes of the show's second season the DVD box set will also contain a good number of bonus materials, such as One-On-One with John McGinley. The Featurette "Music Stylings" will discuss the role of music in the show while "Secrets And Lies" will go behind the scenes to uncover anecdotes and jokes form the show's set.
A selection of Deleted Scenes is also included on the release as well as a number of hilarious Outtakes.
"Scrubs: The Complete Second Season" will be waiting for you on November 22 with a $39.99 price tag attached.