Scooby Doo crosses the Atlantic this fall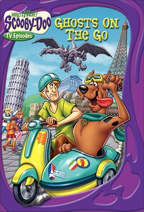 Prep your passport and pack your bags! Warner Home Video has confirmed your reservation to join Scooby-Doo and the gang as they take on Europe in What's New Scooby-Doo? Vol. 7: Ghosts on The Go! The seventh installment of the popular, long-running animated series "What's New Scooby-Doo?" will be available on DVD this November.
"Ghosts on the Go!" features four episodes from the animated television series, each of them showcasing Scooby-Doo and his pals Shaggy, Daphne, Fred and Velma as they experience a different colorful European adventure. Sightseeing takes on a whole new meaning when the gang encounters ghosts, gargoyles and even classic mythological creatures.
In "Large Dragon At Large," the gang attends a Renaissance Faire, where a dragon interrupts their fun. While traveling through Greece, an ancient myth comes to life because of a medallion Shaggy wears in "It's All Greek To Scooby." In "Pompeii and Circumstance," the gang's Italian vacation is interrupted by misdeeds in the ancient city of Pompeii, leading to an ominous visit into the mouth of the not so dormant Vesuvius. And finally, the gang goes to Paris to see Daphne's cousin become a model only to discover she's been abducted by a giant gargoyle in "Ready To Scare."
In addition to the four episodes, the release also offers up a European Adventure Challenge and a Scooby-Doo Vacation Featurette – the Mystery Gang brings you on a European tour, complete with Scooby snacks!
"What's New Scooby-Doo? Vol. 7: Ghosts on The Go!" will be in stores on November 8 and carry a $19.98 price tag. It will also be available in a limited edition holiday gift set containing a collectible Scooby-Doo plush toy retailing for the same price.