Jumanji returns to DVD in a Deluxe Edition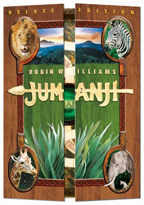 In 1981, renowned children's author Chris Van Allsburg (Polar Express, Zathura) published Jumanji, a story about two children, a mysterious board game and the startling collision of two worlds. The book became an immediate global success and fired up the imaginations of young and old alike. In 1995, director Joe Johnston, actor Robin Williams and an army of special effects wizards brought the award-winning book to
cinematic life in the TriStar Pictures theatrical release Jumanji..
Now, in honor of the 10th Anniversary of the landmark film and celebrating
the upcoming theatrical release of Chris Van Allsburg¹s Zathura, Sony Pictures Home Entertainment unveils the Jumanji Deluxe Edition DVD, ready to
pounce on November 8.
The 2-disc "Jumanji Deluxe Edition" is packaged in an outer sleeve that
opens to reveal a novelty playable board game. The film is presented in its
original theatrical 1.85:1 aspect ratio in anamorphic widescreen and includes
new bonus features designed with kids in mind, such as Secrets And Riddles: The Jumanji Survival Game as well as The Extreme Book Of Nature in which the pages inside come alive to reveal some of nature's strangest, wildest and scariest creatures. Also included is "Ancient Diversions," a look at some of the coolest magic tricks and optical illusions you can practice, too.
More serious supplements are also being found on the release, such as a Special Effects Crew Commentary Track and a Making-Of Documentary. Also look for a Production Design Documentary, a Special Effects Featurette and a selection of Photo Galleries. The release is rounded out by Storyboards.
Inside the Jumanji Deluxe Edition DVD is a free movie ticket to see Columbia Pictures' new theatrical release "Zathura," an out-of-this-world adventure based on another best-selling children's book from Chris Van Allsburg and stars Tim Robbins.
"Jumanji" will be in stores on November 8 and carry a $19.94 price tag. Additionally, a UMD version for the Sony PSP will also be released on the same day.