Get ready for a lot of Sex in the City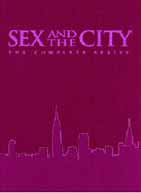 This November fans of Sex in the City who haven't been up on their DVD collections can save some time with the massive Sex in the City: The Complete Series coming from HBO Home Entertainment
For six seasons Carrie Bradshaw and friends Samantha, Miranda, and Charlotte offered us their hilarious, outspoken and outrageous look at dating, mating and relating in the big city. Celebrate the show that explores the day-to-day — and night-to-night — world of single women in this, the definitive collector's edition.
All the supplements from the individual box sets will be here in the set which is scheduled to arrive on November 1st. Gather some friends and $299.95 and enjoy six years worth of the big city girls.