George A. Romero's Dawn Of The Dead sees yet another DVD release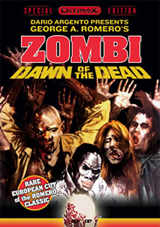 By now I have honestly lost count how many times Dawn Of The Dead has been released but we just got word from Anchor Bay Entertainment that the studio will release the European Cut of the movie in October.
"Zombi: Dawn Of The Dead" has been originally released as part of the award-winning, four-disc "Dawn Of The Dead: Ultimate Edition" DVD set last year and this upcoming release marks the first time the highly-sought after European Version will be available as a separate DVD.
The Italian version that was edited by by Dario Argento, and US-version that was edited by George A. Romero, have a different soundtrack and a different overall tone: Romero's version has some humor in it and is more horror-oriented while Argento deleted all funny scenes, made the film more action-oriented and added a pulsing music score by his own band, Goblin.
Presented in 16×9 widescreen format with Dolby Digital 5.1 surround sound, the new single-disc "Zombi: Dawn Of The Dead" DVD will include the same bonus features as disc three of the "Dawn – Ultimate Edition." These features are an Audio Commentary with actors David Emge, Ken Foree, Scott H. Reiniger, and Gaylen Ross, the International Theatrical Trailers and U.K. TV Spots, International Lobby Card Gallery, International Poster & Advertising Gallery, International Pressbook Gallery, Home Video & Soundtrack Artwork and a Dario Argento Biography.
The Dead will walk the Earth again on October 25 and will carry a $19.98 price tag.