From Europe with Love, Deuce Bigalow comes for a visit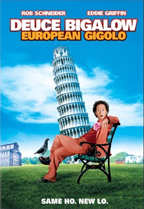 Deuce Bigalow – European Gigolo has just received a ticket back home to live on in your home theater. Sony Pictures Home Entertainment has slated the DVD release of the film for November for all of us to experience Deuce's hilarious antics in the Old World.
Comedy superstar Rob Schneider returns as everyone's favorite male gigolo, Deuce Bigalow, in this film. This time Deuce heads to Amsterdam to help get his former pimp out of a jam. It's a hilarious laugh-orgy that will have you screaming with delight from start to finish.
The release will feature a widescreen presentation of the movie and contain a few bonus materials, such as a selection of Deleted Scenes and seven individual Behind-the-scene Featurettes covering various aspects of the film's production.
"Deuce Bigalow – European Gigolo" is scheduled for release on November 29 at a suggested retail price of $28.95 and will also be released on UMD for PSP on the same day.