DVD Review adds UMD Review section to its service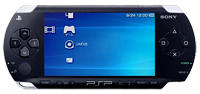 For the past weeks we've not only been busy reworking major portions of the website, as you can see, we have also worked on adding more content to DVD Review as a whole. Today we are finally able to reveal our new UMD Review Section!
UMDs are the small discs used by the Sony Playstation Portable (PSP) and since the launch of the PSP a few months ago, movies have been a runaway success on this handy format. Because many of our readers use their PSP to view movies on-the-go, we decided to take a look at these little discs and give you an overview over the quality of the various releases, just as we do with DVD releases.
You can find our UMD Review Section here, with an initial selection of reviews, but rest assured that more are already under way. In the next few days we will be able to add reviews for titles such as "Halloween," "The Italian Job," "The Backyard," "Sahara," "Gone In 60 Seconds" and many others to the list, so make sure to check back regularly, and make sure to tell your PSP-loving friends about this new addition to our site.