Dreamworks unleashes War Of The Worlds in November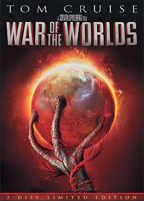 Coming as a 2-disc Special Edition, as well as a single-disc release, Dreamworks Home Entertainment is currently putting the final touches to their release of the Steven Spielberg blockbuster War Of The Worlds.
An earth-shattering adventure, "War of the Worlds" reunites superstar Tom Cruise and Academy Award-winning director Steven Spielberg for an awe-inspiring cinematic experience!
A contemporary retelling of H.G. Wells' classic, the sci-fi thriller reveals the extraordinary battle for the future of humankind through the eyes of one American family. Fleeing from an extraterrestrial army of killer Tripods that annihilate everything in their path, Ray Ferrier races to keep his family safe. War of the Worlds is an action packed adventure that explodes with spectacular special effects!
The Special Edition DVD will feature an Introduction by Steven Spielberg as well as the biographic Documentary called "The H.G. Wells Legacy," which also features interviews with Gene Barry and Ann Robinson, stars of the original 1953 film adaptation of the movie.
Also included on the release is a 2-Part Production Diary and a Featurette on the pre-visualization of the movie's spectacular special effects sequences. Then there is a Featurette on the creation of the aliens. Apparently a Featurette on the movie's music is also included, featuring interviews with Spielberg and composer John Williams.
The single-disc edition will not contain any bonus materials.
The DVD release of "War Of The Worlds" is scheduled for November 22. The Special Edition will carry a $39.95 price tag, while the movie-only version will be available for a hefty $29.99.