Charlie And The Chocolate Factory sweetens your November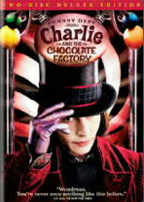 Warner Home Video has just unveiled details about the upcoming release of the latest Tim Burton movie, Charlie And The Chocolate Factory.
Acclaimed director Tim Burton brings his vividly imaginative style to the beloved Roald Dahl classic "Charlie and the Chocolate Factory," about eccentric chocolatier Willy Wonka (Johnny Depp) and Charlie, a good-hearted boy from a poor family who lives in the shadow of Wonka's extraordinary factory. Long isolated from his own family, Wonka launches a worldwide contest to select an heir to his candy empire. Five lucky children, including Charlie, draw golden tickets from Wonka chocolate bars and win a guided tour of the legendary candy-making facility that no outsider has seen in 15 years. Dazzled by one amazing sight after another, Charlie is drawn into Wonka's fantastic world in this astonishing and enduring story.
The film will be available in two versions, a 2-disc Deluxe Edition and a Single-Disc Version. The single-disc version will contain two bonus materials, Challenges: Oomp-Loompa Dance Machine and a Documentary, named "Becoming Oompa-Loompa: How Did They Turn One Man into Thousands of Oompa-Loompas?!?"
In addition to these features, the Deluxe Edition will also contain a Biographic Featurette about Roald Dahl, as well as additional Challenges such as "The Inventing Machine," "The Bad Nut," and "Search For The Golden Nugget."
Also included is the Featurette "Becoming Oompa-Loompa" in which you can see how actor Deep Roy was turned into an army of Oompas. Another Featurette is "Attack Of The Squirrels" featuring a look at the trained nut-sorting squirrels, and other featurettes.
You can unwrap "Charlie And The Chocolate Factory" on November 8. The single-disc version carriers a suggested retail price of $28.98 while the Deluxe Edition will carry a $30.97 price tag.