Anchor Bay is readying some more UMD titles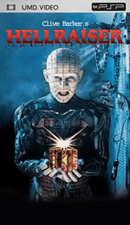 Anchor Bay Entertainment has just sent word to us that PSP owners can expect some more great UMD titles from the studio's vast horror library. Scheduled for release on November 22, brace yourself for UMD versions of George A. Romero's Dawn Of The Dead in its theatrical version, as well as Clive Barker's Hellraiser and the Stephen King adaptation Children Of The Corn. No extras will be included on these releases.
All films will be released on November 22 and carry a $19.98 price tag.