Unearth the golden age of horror in Slaughterhouse Of The Rising Sun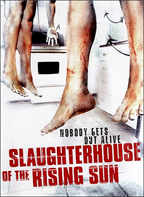 Velocity Home Entertainment has just announced the release of Slaughterhouse Of The Rising Sun for September 27. A chilling modern thriller it revisits the style and suspense of classic early 1970's horror films and pays homage to this often overlooked era of filmmaking.
Conceived in September 2001, Writer/Director D.C. Mann extensively researched cult and horror films from the late sixties and early seventies. Utilizing everything from the dialogue and melodramatic acting to the cinematography and editing style of the time, Mann successfully recreated the feeling and look of an early seventies film.
True to every detail, Mann was able to convince production companies, acquisitions executives and post-production houses that the film was actually a "lost film" from the era he was emulating. Mann completed the concept with a fake back-story of his own alias, "Vin Crease," a satirical, yet devastating take on self-destructive auteur writer/directors of the time.
The year is 1971. Jennifer, a troubled actress is institutionalized following psychotic visions on the set of her latest film. Upon her release, Jennifer becomes stranded in the desert only to be rescued by a colorful band of nomadic rebels. Helpless and alone, Jennifer has no choice but to follow them and is subtly but swiftly inducted into their family. That night, a local desert dweller tells them of an abandoned house and warns them to stay away. The family ignores the warning and uses the house as their latest crash pad. Jennifer becomes further plagued by sinister visions that reduce her ability to separate reality from fantasy. Soon members of the family are mysteriously killed one by one in the legend known as the Slaughterhouse Of The Rising Sun…
Apart from the feature film, the DVD will also include "Losing The Light: The Unmaking Of Slaughterhouse Of The Rising Sun," a Pseudo-Documentary on the making of the film, and "Cuttings" – a Deleted Scenes Montage.
"Slaughterhouse Of The Rising Sun" will wait in stores on September 27 for all dedicated horror fans and carry a suggested retail price of $24.98.