The wrong guy…. The Big Lebowsky is coming back to DVD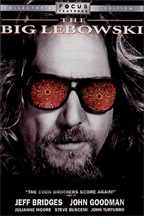 The Coen Brothers comedy The Big Lebowski is coming back to DVD this October as a new Collector's Edition, courtesy of Universal Home Entertainment.
The Dude. One cool guy. Who one day comes home to find two thugs have broken in and ruined his favorite carpet-the one that made the room "hang together". Thing is, they did it because he's got the same name as one of the richest men in town. Lebowski. But, hey, no problem. He'll get even. At least he'll get someone to pay for the carpet.
Featuring an amazing all-star cast and a hilarious story by the Coen Brothers, "The Big Lebowski" is coming as a "Focus Feature Collector's Edition" from Universal, featuring an all new remastered anamorphic widescreen transfer . The release will also contain an Exclusive Introduction by Mortimer young. A 30-minute Making-Of Featurette featuring interviews with cast and crew members, including the Coen Brothers is also part of the release. Universal is also offering a Limited Edition gift Set for true "Achievers" which will also contain a Bowling Towel, 4 Collectible Coasters and 8 exclusive Postcards from Jeff Bridges' Photograph Collection, taken on the set.
"The Big Lebowski" bows on October 18 and will be in stores for $19.98. The Gift Set will retail for $49.98.