The original War Of The Worlds is returning to DVD with a vengeance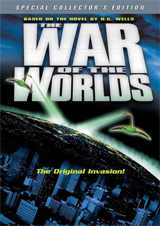 It doesn't happen too often that Paramount Home Entertainment is creating full-blown Special Editions for some of their vintage films, but we just got word that a spectacular DVD version of the original 1953 The War Of The Worlds is arriving in November.
Released as a standard edition a few years ago, this story of aliens from Mars invading the Earth and laying waste to it, is now coming back with a brand new remastered transfer in the movie's original fullframe format. The studio is also adding a newly remixed Dolby Digital soundtrack to the release alongside the original mono track.
As extras the offer up two separate Commentary Tracks. The first one features the film's main stars, Gene Barry and Ann Robinson as they remember the making of the movie. The second one features director Joe Dante, historian Bob Burns and author Bill Warren, which should make for an extremely interesting and insightful track also.
"The Sky Is Falling" is a making-of Featurette that will also be included on the release as well as a Documentary entitled "H.G. Wells: The Father Of Science Fiction."
As a super-bonus, the DVD will also include the Complete Mercury Theater Broadcast of "War Of The Worlds" by Orson Welles which caused mass hysteria and panic during its broadcast in 1938. The movie's original trailer will also be found on the release.
The original "War Of The Worlds" will come to DVD on November 1st and carry a cool $14.98 price tag.