Kurosawa's Ran finally gets the Criterion treatment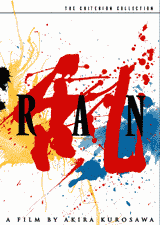 This morning we just got information that Criterion Collection will add Akira Kurosawa's Ran to their line-up this fall.
With "Ran, " legendary director Akira Kurosawa re-imagines Shakespeare's tragic King Lear as a singular historical epic set in sixteenth-century Japan. Tatsuya Nakadai stars as Lord Hidetora, a warlord who cedes authority over his vast dominion to his eldest son, setting off a familial power struggle for control of the kingdom. Majestic in scope, "Ran" is a visual masterpiece in which Kurosawa contrasts the immensity of war with the crumbling of one family under the weight of betrayal, greed, and the insatiable thirst for power.
The 2-disc DVD set will boast a brand new, anamorphic widescreen transfer of the movie with the original Japanese audio track. A Commentary Track by Kurosawa scholar Stephen Prince will complement the movie as well as an Appreciation of the film by director Sidney Lumet.
As additional supplements, "A.K." a 74-minute Documentary about Kurosawa and the making of Ran is also included on the release, as is "Akira Kurosawa: It Is Wonderful to Create," a 37-minute documentary from the Toho Masterworks series.
You will also find "Image: Kurosawa's Continuity," on the DVD, a 35-minute Video Piece reconstructing "Ran" through Akira Kurosawa's paintings and sketches. Further you'll see a new Video Interview with actor Tatsuya Nakadai, a new Essay by film critic Michael Wilmington and the mobvie's Theatrical Trailer.
"Ran" will be in stores in November and carry a $39.95 price tag.