Get Bewitched this October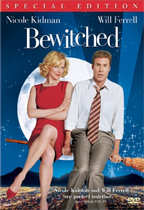 With over $65 million in box office returns, the comedy "Bewitched" was making a good showing earlier this year. Starring Nicole Kidman, Will Ferrell, Shirley MacLaine and Michael Caine, this spin-off from the beloved classic TV show will now come to DVD just before Halloween from Sony Pictures Home Entertainment.
The Special Edition release will boast an anamorphic widescreen transfer of the movie and contain a Commentary Track by director Nora Ephron. Also included will be a selection of Deleted Scenes as well as a total of ten (10) Featurettes! But that's not all. A Witch Vision Trivia Track can also be found on the release, as well as the movie's trailer and other little extras.
"Bewitched" will be in stores on October 25, just in time for Halloween, and carry a suggested retail price of $28.95. A UMD version for the Sony PSP handheld will also be released on the same day, at the same price.