Dominion: Prequel To The Exorcist is casting its curse in October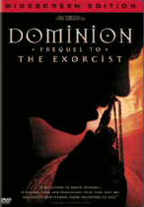 The prequel to the original "The Exorcist" is a film that wrote movie history. Two directors took on the same film and while many have seen Renny Harlin's result "Exorcist: The Beginning, " Paul Shrader's version of the movie, Dominion: Prequel To The Exorcist has been virtually unseen as a result of an extremely limited theatrical run. It is reportedly, however, the significantly better of the two films!
In October now Warner Home Video will release Shrader's take on the story of Father Lankester Merrin (Stellan Skarsgard) back to his first encounter with the Devil in post-WW II Africa. The film features essentially the same cast as Renny Harlin's but looks at the story from an entirely different angle.
The DVD will feature a 16×9 enhanced widescreen presentation of the movie and include a Commentary Track by Paul Shrader, a selection of Additional Scene and a Still Gallery.
Mark October 25 in your calendar for this tale of horror and set aside $24.98 for this DVD release!