Anchor Bay launches the Alien Apocalypse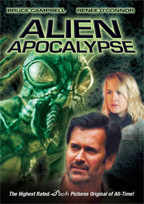 Alien Apocalypse, co-starring Bruce Campbell and Renee O'Connor (Xena: Warrior Princess), infests DVD on October from Anchor Bay Entertainment.
"Alien Apocalypse" tells the terrifying story of a team of astronauts who have returned to Earth after completing their mission in outer space. Dr. Ivan Hood (Bruce Campbell), Capt. Kelly Lanahan (Renee O'Connor) and Capt. Chuck Burkes (Michael Cory Davis) have been away for 40 years, deep in cryogenic sleep. Upon landing, the team finds itself in Oregon – now an unrecognizable desert wasteland! Soon, the intrepid trio are captured and forced into unceasing labor. Now Dr. Hood and Kelly must lead a revolution to free the human slaves from their alien taskmasters.
Written and directed by Josh Becker "Alien Apocalypse" premiered on the Sci-Fi Channel on March 26, 2005 and was the highest rated Sci-Fi Pictures original to air in the network's 12 year history, attracting over 2.7 million viewers.
Apart from the feature film in anamorphic widescreen, the "Alien Apocalypse" DVD also contains a good number of cool special features, such as an Audio Commentary with actor Bruce Campbell and writer/director Josh Becker. Also included is a Behind The Scenes Gallery and a Storyboard Gallery. Further you will find a Bruce Campbell Bio and a selection of Trailers on the release.
"Alien Apocalypse" will be in stores on October 4 for a low $14.98!