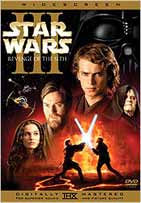 The final installment in the 28 years of Star Wars movies comes to DVD in November. Star Wars Episode III: Revenge of the Sith is coming from Twentieth Century Fox Home Entertainment.
Both fullscreen and anamorphic widescreen versions of the film will be available in Dolby Digital EX. The supplements are still coming in, but the set will include a Commentary Track from George Lucas, a Documentary, two Featurettes, the fifteen part Web Documentary and a demo of the game Star Wars Battlefront II.
Of course now that all six films are available, a full-blown DVD box set, containing all episodes is highly likely, but for now, the fall of Anakin Skywalker is coming to a store near you on November 11th.