The Incredibles are coming back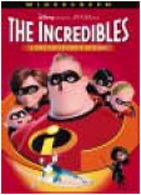 With Oscar buzz on an animated film for the first time in over a decade, The Incredibles is coming to DVD in the spring as a two disc special edition from Buena Vista Home Entertainment.
The set will be released both as a fullscreen and an anamorphic widescreen release. Both will contain two audio commentaries, the short Boundin' also with an optional audio commentary. The two disc set will also be loaded with supplements to be announced soon.
Both versions are coming soon and due to arrive on March 15th.