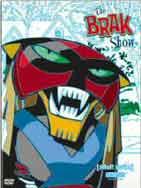 Who knew that a guest villain on a poorly drawn cartoon in 1966 would end up being among the more quoted personages in colleges across the country thirty-five years later? Brak grew in popularity in Space Ghost: Coast 2 Coast and landed his own series coming to DVD when Warner Home Entertainment releases The Brak Show: Volume 1.
What happens when two adults get together and have children? And what if those children grow up and go to school? That's the just-crazy-enough-to-work premise behind "The Brak Show." Also, Brak is in it.
The DVD will contain about half the episodes of the run of The Brak show along with selected audio commentaries, easter eggs, excerpts from the short-lived Brak Presents The Brak Show Starring Brak and Cartoon Planet excerpts.
The set arrives on February 1st with a suggested retail price of $29.98. A third volume of Space Ghost: Coast 2 Coast is also on the way.