Friends brings the finale to disc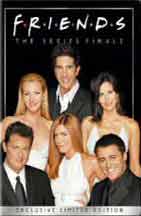 In an incredible example of hitting while you're hot, Warner Home Video will be releasing the final episode of Friends on Tuesday, only five days after it aired on television, creating possibly the shortest windows in DVD history.
The final hour-long episode, aptly titled The Last One will include additional footage not seen on NBC and will be joined by the first episode of the series from 1994 as well as the music video from the opening.
On Tuesday, the disc will arrive with a suggested retail price of $14.95.