Xena returns for season four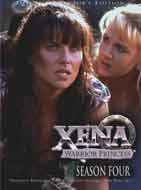 Xena
Xena returns for the forth of six seasons on DVD from Anchor Bay Entertainment.
The ten-disc set will contain the 22 episodes of the 1998-1999 season highlighted by the fan-favorite episodes "Adventures in Sin Trade, " "Paradise Found" and "Déjà vu All Over Again." The smash-hit fourth season riveted fans with gripping episodes that unveiled secrets of Xena's tumultuous past, revealed heroic triumphs and tragic failures destined in her future, and in the end, left them stunned beyond words by the events of the electrifying season finale, "The Ides of March.".
The set also includes Interviews, video and audio commentaries, extended cuts on the episodes "Between the Lines," "A Good Day" and "Locked Up and Tied Down", and the featurettes Bringing Monsters to Life at K.N.B. EFX Group, "Adventures in Sin Trade": An Exploration and Bruce & Ted "Cabin Fever", bloopers, outtakes, a photo gallery and a CD-ROM.
The set arrives on June 15th and will carry a suggested retail price of $79.98.