Wonder Woman comes to DVD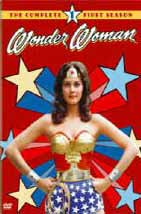 She can make a hawk a dove, stop a war with love and make a liar tell the truth. She's Wonder Woman and she's headed for DVD thanks to Warner Home Entertainment which will be putting out the first season of the 1977-1979 series that jump started puberty for a generation.
Wonder Woman, who came from a lost island where a band of Amazon women with special powers fled for sanctuary from male domination. During World War II, Major Steve Trevor crash-landed on the island, where he fell in love with Wonder Woman and returned to the United States with her. In America, she was known as Yeoman Diana Prince, who by day served as a secretary at the U.S. War Department. When the perpetrators of crime would rear their ugly heads, she would transform herself into Wonder Woman and conquer them with her powers to bring them to justice.
In addition to each episode, the set will include the 90-minute movie pilot of the live action series based on Charles Moulton's classic DC comic book. Other special features will include audio commentary on the pilot by Lynda Carter and executive producer Douglas Cramer, as well as the never before seen documentary "Beauty, Brawn and Bulletproof Bracelets: A Wonder Woman Retrospective.".
The invisible jet will set down on June 29th and the set will be priced at $39.98.