Columbia TriStar has a Monster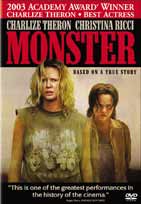 Fresh off its Academy Buzz, the true story of Aileen Wuornos is told in Monster, coming to DVD this summer from Columbia TriStar Home Entertainment.
Director Patty Jenkins burrows deep beneath the tabloid headlines of a man-hating serial killer, to unearth a love story blossoming among the horrors and pathologies of two misfits – Wuornos, a drifter prostitute who kills her "johns" and Selby Wall, a girl who's sent by her parents to live with an aunt to "cure" her homosexuality. After their chance encounter, their love flourishes, while their financial situation becomes desperate. Wuornos continues her prostitution to keep the relationship alive, which fuels a deadly rage, a rage unleashed in a string of lurid killings and turns her into a monster.
The film will be presented in its original anamorphic widescreen presentation with audio in both Dolby Digital 5.1 and DTS 5.1. A DTS mixing demo is also a unique new feature on this disc. Extras include interviews, a featurette and theatrical trailers.
The disc will be available by itself on June 1st with a suggested retail price of $26.95. A 2-pack DVD will include the film and a second disc containing the documentary Aileen: Life and Death of a Serial Killer. The two disc set comes priced at $39.95.