Better look under the Sea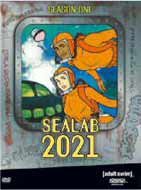 Fans of the Adult Swim show Sealab 2021 can finally clear up some space off their TiVo. Sealab 2021 Season One is coming as a two disc set from Warner Brothers Home Entertainment.
It is the year 2021. In this mind-bogglingly distant future, Sealab rises imperiously from the ocean's floor, her crew charged with exploring the possibility of underwater colonization. That is, when they're not fighting giant squids over a toy oven. Or running pirate radio stations. Or trying to put their brains into robot bodies. Or going back in time. Or being attacked by flesh-ripping aliens. Or becoming addicted to scorpion venom. Or getting stuck in a storage closet. Or going back in time again.
The first thirteen episodes of the series land on the two disc set in their original fullscreen and in Dolby 2.0 Surround. Extras include an alternate ending for I, Robot, deleted scenes from Little Orphan Angry, the unaired pitch pilot, an uncensored scenes from Radio Free Sealab.
You drink tea right? Then pick up the first season on June 15th 2004 with a suggested retail price of $29.98.