An ending for Transfomers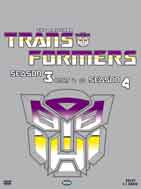 The final box set of the original 1984-1987 cartoon The Transformers is set to arrive containing the final episodes of the third season and the extremely short, three episode long forth season. The set arrives from Rhino this April.
The series comes to a close as the battle for Cybertron wanes with the return of Optimus Prime and the loss of the Matrix. The brief forth season introduces the Headmasters in time to launch a new toy line, but not enough to maintain a full season.
The set will contain three discs also available separately. Features are unknown at this point.
Arriving on March 9th with a suggested retail price of $49.95.