The Matrix Revolutions concludes the trilogy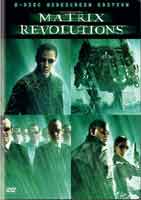 Philosophy and Kung Fu end their marriage as the final installment of The Matrix trilogy comes to DVD. The Matrix Revolutions comes to DVD this spring.
In the powerful final chapter of the Matrix trilogy, Neo took another step forward in the quest for truth that began with his journey into the real world at the outset of The Matrix – but that transformation has left him drained of his power, adrift in a no man's land between the Matrix and the Machine World. While Trinity holds vigil over Neo's comatose body, Morpheus grapples with the revelation that the One in which he has invested a life's worth of faith is merely another system of control invented by the architects of the Matrix. During the stunning conclusion, the rebel's long quest for freedom culminates in an explosive battle. As the Machine Army wages devastation on Zion, its citizens mount an aggressive defense – but can they stave off the relentless swarm of Sentinels long enough for Neo to harness the full extent of his powers and end the war?
In addition to an anamorphic widescreen transfer and Dolby Digital 5.1 sound, the disc will come loaded with extras including the featurettes Revolutions Recalibrated, CG Revolution and Super Burly Brawl. The innovative Follow the White Rabbit feature – first seen on the original Matrix disc returns with the segments Neo Realism: The Evolution of Bullet Time, Super Big Mini Models, Double Agent Smith and Mind Over Matter: The Physicality of The Matrix. A sneek peek into the upcoming The Matrix Online is included. 3-D Evolution shows a transition to different levels of the Matrix to view concept art, storyboards, pre-visualizations and realizations for several elements in Revolutions. Before the Revolution offers a 3-D timeline of the concurrent story development occurring in the Matrix between the Matrix trilogy, The Animatrix, and Enter the Matrix. A theatrical trailer and weblinks are also on the discs.
Coming on April 6th, the Revolution will be $29.95.