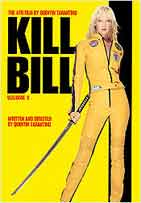 But not in this film, the first half of the Quentin Tarantino film Kill Bill will make its debut this spring in time for the second installment in the story.
The Bride was left for dead in the church. That was her price for betraying Bill. But one thing was overlooked; actually making sure she died. And for that error, many will feel the wrath of a woman scorned.
The disc will carry the film in anamorphic widescreen with audio in Dolby Digital 5.1 and DTS 5.1. Also included is the documentary "Behind the Scenes with Quentin Tarantino" and theatrical trailers.
Retail is $29.95 for the April 13th release. Hopefully as that date draws near, more info will be available on the box set for both films.