The Ten Commandments descends from Paramount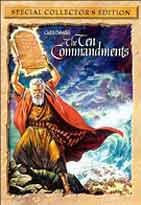 One of the initial releases from Paramount Home Entertainment in the early days of DVD was the classic cinema piece The Ten Commandments. Now like make of the early DVD releases, the studio is re-releasing it with a little DVD creation knowledge under its hat.
On the pretty standard side of things, the film will be available in anamorphic widescreen with audio in both Dolby Digital 5.1 and mono. An audio commentary with author Katherine Orrison and theatrical trailers. The meat of the new three disc set is a new six-part documentary.
On March 9th, Thou Shalt not buy and discs before it with its retail price of $19.95.