Sit Right Back and You'll Hear a Tale…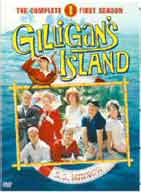 A tale of a fateful trip. The first season of the original sitcom Gilligan's Island is coming to DVD.
After a three-hour pleasure tour, the SS Minnow is washed ashore on an uncharted South Pacific island, leaving behind what would become TV's most famous castaways. .All thirty-six episodes of the first black and white season will be included in the set as will the seldom seen pilot with different characters and settings.
Each episode will be presented in its original mono and fullscreen. Also along for the ride are a commentary on the Pilot by creator Sherwood Schwartz, a trivia games, a Gilligan's Island survival guide, and profiles of the characters.
The three disc set will arrive on February 3rd for $39.98.