New info on Alice in Wonderland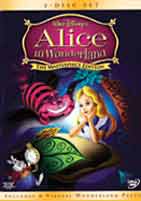 While Disney fans wait for next autumn's release of Aladdin, Buena Vista Home Entertainment has several special edition rereleases of several of their animated features. First up is the psychadelic Alice in Wonderland coming out in early 2004.
The new two disc set – this time labeled the Masterpiece Edition – will be presented in its original fullscreen with audio mixed up to Dolby Digital 5.1. Extras include introductions, the vintage television specials "One Hour in Wonderland" and "The Fred Waring Show", the featurettes "An Alice Comedy: Alice's Wonderland" and "Operation Wonderland", abandoned concepts, deleted storyboards, song demos, a photo gallery, the "Through the Mirror" animated short and theatrical trailers. That's for the grown-ups. For the kids, the set includes "Virtual Wonderland Party" games, sing-alongs and the "Adventures in Wonderland" interactive game.
When DVD came into fashion, many collectors still held onto their Disney laserdiscs since the LDs celebrated the films as cinema while the early Disney DVDs played exclusively to the kids. It's a pleasant turnaround that the Mouse House is now providing a little something for everyone on their DVDs and treating their films with respect. The Masterpiece Edition will arrive on January 27th for $29.95.