Space Ghost finally hits DVD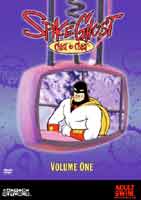 The long running animated talk show Space Ghost: Coast to Coast – now part of the Cartoon Network's Adult Swim lineup has finally found its way to DVD. Volume 1 hits shelves this fall from Warner Brothers Home Entertainment.
Superhero-turned-talk show host Space Ghost presents all-new celebrity interviews with strange interactions from his bandleader Zorak and his cameraman Moltar. Live action guest stars include Weird Al Yankovic, Bobcat Goldthwait, The Ramones, Judy Tenuta, Hulk Hogan and more.
The first several episodes will be presented in chronological order on two discs. Audio commentaries from the creators and a music video will also be on the set.
The first volume will arrive on November 18th with a suggested retail price of $29.98. Lets hope all the episodes make it along with the other Adult Swim series from the Williams Street Players.