Blue Underground is set to release Final Countdown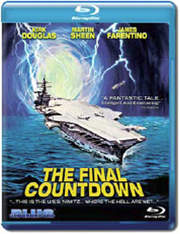 Bill Lustig's Blue Underground has just secured the rights to the fan favorite science fiction actioner Final Countdown and is preparing DVD release of the movie, which is tentatively scheduled for release in May of 2004.
Directed by Don Taylor, this action adventure stars Kirk Douglas, Martin Sheen, Katherine Ross, James Farrentino, Ron O'Neal and Charles Durning, as it tells the the story of an American nuclear aircraft carrier and its crew that is caught in a supernatural storm which sends them back in time just before the Japanese attack on Pearl Harbor.
The DVD will be presented with new THX-approved 16×9 transfer in the movie's 2.35:1 widescreen aspect ratio, as well as a fullframe transfer, and state-of-the-art 6.1 DTS-ES and 5.1 Dolby Digital Surround EX soundtracks. No extras have been announced yet and will be unveiled at a later point as development gets under way. Rest assured however, that Blue Underground will make sure this is going to be a memorable release.