Warner gives a true Christmas present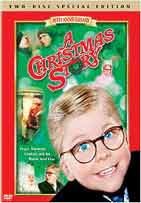 High on the list of great movies with lousy DVD releases is the Christmas film second only to "It's a Wonderful Life"; A Christmas Story finally comes as a two disc special edition from Warner Brothers Home Entertainment.
All that stands between nine-year-old Ralphie Parker and happiness is a Genuine Red Ryder Carbine Action Two Hundred Shot Lightning Loader Range Model Air Rifle. Unfortunately, standing between Ralphie and the gift of his dreams are two highly emotional parents who keep screaming, "No! You'll only shoot your eye out!"
The best news is first, the film after a few earlier releases, will finally be released in anamorphic widescreen. The set will also include a stash of extras including the documentary Another Christmas Story, narrated by Peter Billingsley, an audio commentary with cast members and director Bob Clark, the featurettes A History of The Daisy Red Ryder an Get a Leg Up: A Shining Light of Freedom, the Triple Dog Dare interactive trivia game, a "decoder match challenge" game, the radio drama of the story and other features.
October 7th will indeed bring home an early Christmas present when the two disc set arrives for $26.99.