The Storyteller tells his tales again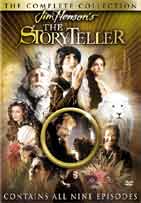 Perhaps the least appreciated of the Jim Henson projects was the short-lived 1987 series Storyteller. The complete series of nine episodes will arrive on DVD this August from Columbia TriStar Home Entertainment allowing a new generation to experience.
Before fantasy was the genre of choice, this anthology series featured the stunning combination of both human actors and amazing puppetry, in the spirit of J.R.R. Tolkein, from the famed Jim Henson's Creature Shop in this retelling of classic European folk
tales.
All nine episodes will be featured in their original fullscreen aspect ration and audio in Dolby Digital 5.1. No extras will be included, but the package does promise to come with a fairly comprehensive booklet in the case (a welcome feature in a time when DVD inserts are dissapearing fast).
Arriving on August 26th, the series will carry a suggested list price of $24.95.