Star Trek V joins the Collector's Edition lineup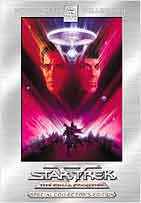 Paramount Home Entertainment's commitment to the Star Trek franchise has met with very few detractors. That commitment is furthered with the upcoming special edition DVD of Star Trek V: The Final Frontier coming in October.
Stardate 8454.130. A vacationing Captain Kirk faces two challenges: climbing Yosemite's El Captain and teaching campfire songs to Spock. But vacations are cut short when a renegade Vulcan hijacks the Enterprise and pilots it on a journey to uncover the universe's innermost secrets.
Following in the style of its predecessors, V will feature the film on disc one in anamorphic widescreen with audio in Dolby Digital 5.1, an audio commentary with William Shatner and daughter Liz Shatner and a text commentary with Michael and Denise Okuda. The cut of the film will be the theatrical version despite efforts on the part of Shatner to revisit the film in the same fashion as the recent release of the first Trek film.
Disc two will contain the featurettes "Herman Zimmerman: A Tribute", "Cosmic Thoughts" exploring the theological aspects of the film, "That Klingon Couple" discussing the film with Klingon actors Spice Williams and Todd Bryant and "The Green Future?" examining the ecological messages of Trek. Also included is an original interview with Shatner, Harve Bennett's pitch to Paramount, the documentary The Journey, make-up tests, pre-visualization models, test footage of the unused Rock Man sequence, the Trek V press conference, deleted scenes, trailers, a production gallery and storyboards. An easter egg will also be on the set.
Overall a very complete package, the two disc set will join the Trek video shelf on October 14th, and have a suggested retail price of $24.99.