Finding Nemo gets a two-disc set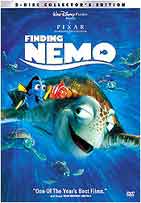 Buena Vista Home Entertainment are getting ready to release another one of their excellent two disc releases, this time with the recent Pixar hit, Finding Nemo.
In the warm tropical waters of the Great Barrier Reef, a Clownfish named Marlin lives safe and secluded in his anemone home with his only son, Nemo. Fearful of the ocean and its unpredictable risks, he struggles to protect his son. Like all young fish, Nemo is eager to explore the mysterious reef. But when Nemo is unexpectedly taken far from home and thrust into a tacky dentist's office fish tank, Marlin finds himself the unlikely hero in an epic journey to find his son.
Like many of the Disney classics, this DVD will come as a two disc set with a split personality; the first disc containing the film in anamorphic widescreen with features aimed at film lovers, and the second disc in fullscreen and aimed at the kids. Both will boast a Dolby Surround EX soundtrack which will likely sound gorgeous considering the ambient sounds of the film. Extras will include the animated short B"Knick Knack" (likely the same altered version seen in theaters), a filmmakers' visual commentary that will incorporate branching on the film to includine deleted scenes and recording sessions, the featurette Exploring the Reef with Jean Michel Cousteau the game "Fisharades", character interviews, design galleries, Mr. Ray's Encyclopedia, a tour of Pixar, the documentary, Making Nemo, a virtual aquarium, a narrated photo gallery theatrical trailers, Fishy Facts and a sneak peek into the new Pixar film "The Incredibles".
Arriving November 4th, the set will carry a suggested retail price of $29.95.