Deep Space Nine Season 4 details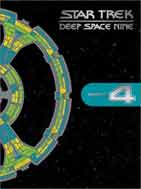 More news on the Star Trek front, the features have been announced for the upcoming Star Trek Deep Space Nine: The Complete Fourth Season.
All twenty-six episodes of the 1995-96 season are included in their original fullscreen with audio in both Dolby Surround and newly mixed Dolby Digital 5.1. Extras include four retrospective featurettes "Charting New Territory: Deep Space Nine Season Four", "Crew Dossier: Worf", "Michael Westmore's Aliens: Season Four" and "Deep Space Nine Sketchbook: John Eaves" and several Section 31 Hidden Files.
The set will arrive October 7th, one week before the release of Star Trek V.