Chitty Chitty Bang Bang gets a tune-up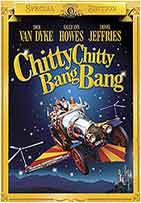 The popular children's film Chitty Chitty Bang Bang has been treated horribly on DVD up to this point, but MGM Home Entertainment has finally gotten the message, and re-released the film as a very nice special edition.
Caractacus potts is an eccentric professor who invents unusually wacky machines, but can never seem to make ends meet financially. But when he invents a revolutionary flying car, a foreign government becomes interested and will stop at nothing to get their hands on it.
Finally presented with an anamorphic widescreen transfer, the two disc set will also include a new documentary on the making of the film as well as several child-friendly features including several sing-alongs and set top games. A 32 page booklet is also included in the packaging which resembles the recent West Side Story box.
The new set will arrive on November 25th and carry a suggested retail price of $29.98.