Warner unveils three long awaited classics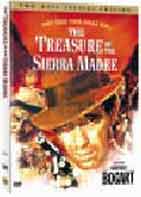 Warner unveils three long awaited classics
The launch of DVD in 1997 was filled mostly with current blockbusters and it took several years for classic films to seep into the mix. But several classics including several films from the AFI top 100 films list are still MIA. Three films finally make the digital leap this fall from Warner Brothers Home Entertainment; The Cagney slice of Americana Yankee Doodle Dandy, the Bogart adventure The Treasure of Sierra Madre and the swashbuckling The Adventures of Robin Hood
While little is known about the supplements, each film will contain an audio commentary and a video segment with film historian entitled A Night at the Movies which offers some historical information and significance for each film. Additionally a great deal of work has been put into restoring the video on each of these including a new process for Robin Hood which scans each of the original strpis of the three color process individually which should lead to unmatched video quality. All three films will be available as two disc sets reminiscent of the recent Singin' in the Rain set.
All three titles will arrive on September 30th with a suggested retail price to be announced. Along with the upcoming Raiders of the Lost Ark DVD, AFI collectors will be pleased to know that only eight titles remain unreleased. Let's hope the studios get on these last few sooner than later.