Two new titles from Criterion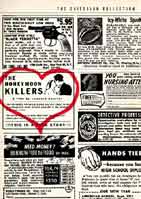 Two more titles are coming from the Criterion Collection next month, the true story of The Honeymoon Killers and the controversial for its day The Pornographers. Neither one is a great choice for Valentine's day watching, but both are great films.
Martha Beck is sullen, overweight and heartbreakingly alone. Desperate for affection, she joins Aunt Carrie's Friendship Club and strikes up a correspondence with Ray Fernandez, a suave, charismatic smooth talker who could be the man of her dreams-or a wicked con artist bound for trouble. Based on a true story and filmed in documentary-style black and white, The Honeymoon Killers is a stark portrayal of the desperate lengths a lonely heart will go to find true love, from brutally immoral killings to a passion that transcends all bounds.
In addition to an anamorphic widescreen transfer, the disc contains a new interview with writer/director Leonard Kastle, an illustrated essay by Scott Christianson on the true crime story of "Lonely Hearts Killers" Ray Fernandez and Martha Beck, the original theatrical trailer and a new essay by critic Gary Giddins.
The title will mark the 200th Criterion DVD and will carry a suggested retail price of $29.95 when it arrives on July 22nd.
Subu makes pornographic films. He sees nothing wrong with it. They are an aid to a repressed society, and he uses the money to support his landlady, Haru, and her family. From time to time, Haru shares her bed with Subu, though she believes her dead husband, reincarnated as a carp, disapproves.
The film has been digitally restored and contains new and improved English translated subtitles. Also included is the theatrical trailer.
With a spine number of 207, the film comes to DVD on July 22nd with a price of $29.95.