Eclectic DVD releases Boris Karloff classic, Snake People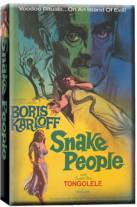 On September 23, Eclectic DVD and Sinema Diable will release a DVD version of the 1968 horror classic Snake People.
The movie is being brought back to video to celebrate one of Boris Karloff's final films in which he plays the part of the mysterious Mr. Van Molder. This suspense-filled Mexican-American production of the supernatural and evil native rituals is filled with zombies, cannibalistic women, an evil dwarf, and a scientist-turned voodoo priest.
When French army officer, Captain Labiche, arrives at the secluded island of Coaibi, he enters a world that is hung in a precious balance between the mysteries of voodoo, an evil snake cult, and legions of zombies worshipping their corrupt god.
He becomes involved in the hunt for Mr. Van Molder's, niece, Anabella, not knowing of Van Molder's devotion to the supernatural and the powers of telekinesis. To add to the mystery of this strange island village, men are disappearing due to a tribe of cannibalistic women. Somehow, this all ties into bringing Damballa, the mysterious zombie god, out of hiding.
The DVD will be available on September 23 for a super-low retail price of only $14.95