Columbia TriStar is Out for a Kill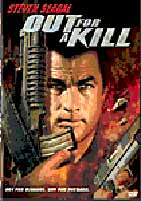 Steven Seagal, once a fairly big box office draw has been reduced to direct-to-video fare. But that shouldn't stop fans from enjoying his latest outing in Out for a Kill coming to DVD this summer from Columbia TriStar Home Entertainment.
Archeology professor Robert Burns is on location leading an important dig in the ancient ruins on the Far Eastern China border. He accidentally discovers that the Chinese Mafia, the Tong, is using his newly discovered ancient Chinese artifacts to smuggle narcotics across the border. Trying to escape, his loyal assistant is killed and he is framed with the evidence at the Chinese border by the military and U.S. Drug Enforcement Agency and sent to prison. Once eventually released, Burns would rather enjoy his freedom back in the U.S. and keep his past behind him, but The Tong catches up to him and threatens not only his life but that of his wife. Vowing to avenge the lives of his loved ones, Burns hunts down and pursues each of The Tong members.
No special features will come on the disc, but the film will be presented in its original intended anamorphic widescreen from a high-def transfer.
A suggested list price of $24.95 will accompany the film which will arrive on August 19th. Also arriving that day will be a Seagal three-pack including the film bundled with Half Past Dead and The Foreigner.