Angel gets a second season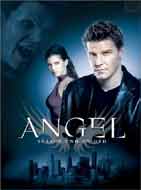 Twentieth Century Fox has more television on the way in the form of season two of the Buffy spin-off Angel. The set arrives this fall.
All twenty-two episodes from the second season will be included spread over six discs. Each episode will be presented in the original fullscreen and Dolby Surround 2.0. Audio commentaries will be included on the episodes "Are You Now or Have You Ever Been" and "Over the Rainbow" will be included as will scripts for "Darla" and "Disharmony". Other features include the featurettes Making Up the Monsters, Inside the Agency, Season 2 Overview and Stunts, a still gallery and blueprints.
With a suggested list price of $59.98, the set will arrive on September 2nd.