Warner honors Gods and Generals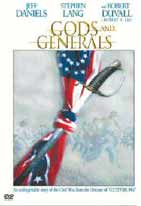 Warner Brothers Home Entertainment is getting ready to release the biggest Civil War film in a decade. Gods and Generals comes in July.
A sweeping epic charting the early years of the Civil War and how campaigns unfolded from Manassas to the Battle of Fredericksburg, this prequel to the film Gettysburg explores the motivations of the combatants and examines the lives of those who waited at home.
Presented in anamorphic widescreen with Dolby Digital 5.1, the disc has a surprising number of extras for such a long film. A crowded audio commentary features the voices of director Ronald Maxwell, author Jeff Shaara, historians and more. Three featurettes are included; "Journey to the Past", "The Life of Thomas "Stonewall" Jackson" and "Authenticities of the Film". Other features include two music videos, theatrical trailers and DVD-ROM content.
July 15th is the day. The DVD will come with a suggested retail price of $27.95.